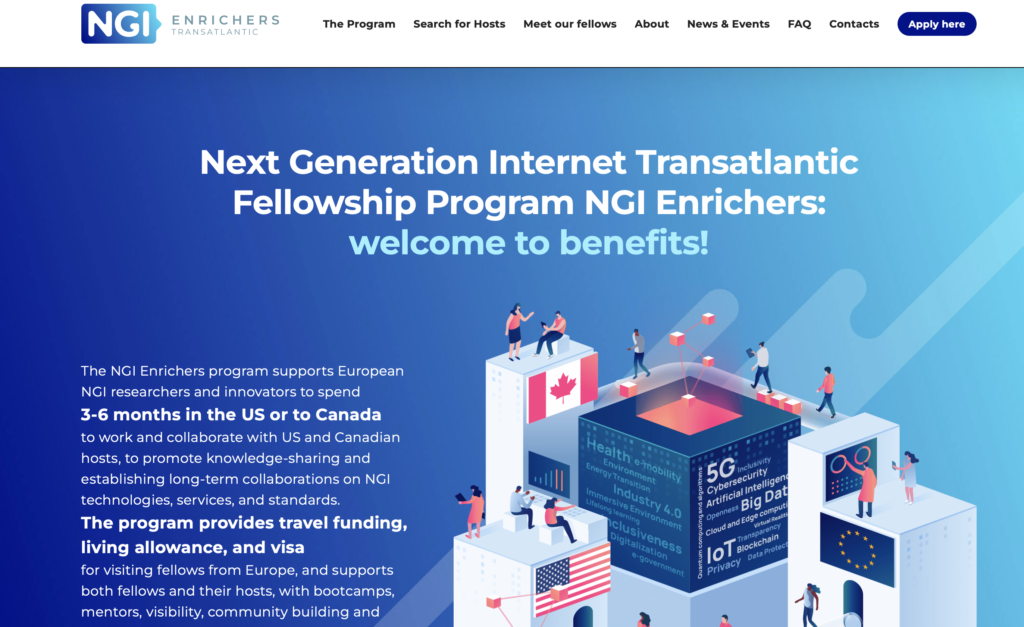 Call open: 30 Nov 2022, Deadline: 31 Jan 2023.
The NGI Transatlantic Fellowship program is seeking to engage NGI Researchers and Innovators, including researchers with technical background, or Social Sciences and the Humanities (SSH) background, or from other multidisciplinary fields e.g. working at the intersection of social and natural sciences.
The program provides travel funding, living allowance (EUR 3.800 – for every full month of stay), and visa cost for visiting fellowsfrom Europe, and supports both fellows and their hosts, with bootcamps, mentors, visibility, community building and more! Applicants can find general information on the fellowship programme on the European applicants – NGI Enrichers page.
The 1st Call for Paired teams will select up to 12 applicants. The selected applicants will spend 3-6 months in the US or Canada to collaborate with the Host organisations, enhancing knowledge-sharing and establishing long-term collaborations on NGI technologies, services, and standards.
The fellow applicants for the Paired Teams call shall submit a proposal (see the instructions below) and they are also responsible to identify a US or Canadian host organisation willing to establish a research or innovation collaboration with them on NGI related topics.
Home